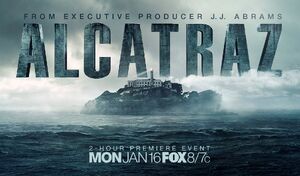 Alcatraz is a drama/sci-fi television series airing Monday nights on Fox.
History
Alcatraz originally was a military base, used in the 1800's discovered by the Spanish, the US used it as a military base in 1886 during the Civil War. In the late 1800's and early 1900's, the base was used as a military prison. The island was then the site of the Alcatraz Federal Penitentiary from 1934 to 1963, when it was closed due to high operating costs. The entire island was designated a National Historic Landmark in 1986 and continues to serve as a historic site available to the public.
Conception/Casting
News about a new J.J. Abrams show started to spread in September 2010 [1], which included Bad Robot's involvement and a script by Elizabeth Sarnoff, who rewrote a preexisting script by Bryan Wynbrandt and Steven Lilien. The series landed at Fox soon after [2], followed by the announcement of Danny Cannon as the pilot's director. [3]
Jorge Garcia's casting as Diego Soto was announced in November, noting Garcia "was the first and only actor the producers of Alcatraz approached for the role of Dr. Soto." [4] Sarah Jones' casting as the "smart, thoughtful and a little obsessive" Rebecca Madsen soon followed [5], along with the casting of Jason Butler Harner and Jonny Coyne as E.B. Tiller, the Associate Warden "who enjoys and abuses his power," and Warden Edwin James, respectively. [6] Sam Neill was announced as Emerson Hauser, "the head of a government agency who radiates authority and piercing intelligence." [7] The last three additions to the main cast included Parminder Nagra as Hauser's lab technician Lucy Banerjee, Robert Forster as Ray Archer, "a retired detective [and current] bartender," [8], and Santiago Cabrera as Jimmy Dickens, "Rebecca's sweet-natured fiance, an uniform cop." [9]
Episode Orders/Pick-Up
The filming of the pilot started on January 19 [10], and ended on February 9. [11] The following month, it was announced that Fox green lit the first season for 12 episodes. [12] Alcatraz was officially picked up for a series on May 13. [13]
Promotion
The Alcatraz trailer, featuring scenes from the Pilot, was released online on May 16, 2011. The Fox Upfronts took place the same day, with Jorge Garcia, Sarah Jones, Sam Neill and Jason Butler Harner representing the show. The show was announced to debut during the 2011/12 midseason, premiering on January 16, 2012, on Mondays at 9 PM.
References
Community content is available under
CC-BY-SA
unless otherwise noted.