"Cal Sweeney"
Co-starring
Lisa Bunting - Mrs. Bailey
Paul Chevreau - Silver
Li Li Lau Cook - Waitress
Andrew Hedge - Security Guard
Laura Jaye - Melissa
Christopher Logan - Observation Room Tech
Valerie McNicol -
Mrs. Beauregard
Darren Moore - Inmate #1
Chris Nowland - Guard #1
Tim Perez - Police Chief
Johnson Phan - Bank Manager #1
Ben Rogers - MIT Tech
Elizabeth Thai -
Mae
Sean Tyson - SWAT Commander
Greg Webb - Mr. Bailey
Lucas Wolf - FBI Man
Andrew Zachar - SWAT Member
"Cal Sweeney" is the fourth episode of season 1, and overall the fifth produced hour of Alcatraz. It originally aired on January 30, 2012.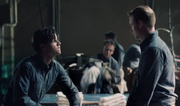 Cal Sweeney was a bank robber who was sentenced to Alcatraz in the late 1950s. During his incarceration, Sweeney mainly worked in the laundry, making huge amounts of money by charging interest to any inmate who did not pay on time. Due to his success, he lectured his fellow inmate Harlan on running a successful business, and eventually interested E.B. Tiller, who wanted a share in his profits. Tiller ransacked Sweeney's cell for any valuables he could confiscate and hold ransom to convince Sweeney to form a business partnership. Tiller was unable to find anything, but Sweeney noticed that his little tin box - the only possession he had, was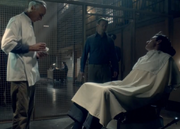 missing. As it bared a substantial importance to him, Sweeney demanded it off Tiller, who truthfully claimed that he did not have it. Not believing him, Sweeney and Harlan then formulated a plan to substitute Sweeney as a steward in Warden James' house during Tiller's birthday party. After bribing the initial steward, an inmate named Red, to fake an ailment for a box of cigarettes, Sweeney successfully made it into the Wardens house.
Harlan purposely poured hot tea onto Tiller's hand to make him go to the toilet.

At the party, Dr. Beauregard, Tiller, Edwin James, Lucille Sengupta and Geri Tiller began discussing the prisoners. Sengupta reveals that her profession was lobotomy, the process of "rewiring" brains to exclude bad memories and instincts.

While Sweeney is alone with Tiller, they agree on a 50% split of profits in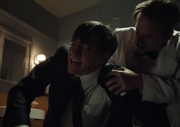 return for Sweeney's little tin box. When Tiller still protests that he doesn't have it, the two get into a fight, with Tiller eventually stabbing Sweeney in the leg with a pen, given to him by Edwin James as a present. Before being taken to Solitary confinement, Harlan reveals that he, in fact, stole his box, and claims that Sweeney "broke the rules," by showing his weak point - something Sweeney taught Harlan n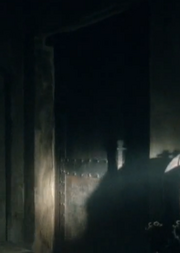 ever to do in the laundry. Harlan explains that Sweeney showed that he had complete reliance on his only possession, which allowed Harlan to take it, manage to get Sweeney and Tiller into a fight, earning Sweeney 30 days in Solitary. This allowed Harlan to take over Sweeney's laundry business. In fury, Sweeney smashes the box before Tiller arrives to take him to Solitary.

Edwin James takes Harlan underground, outside a heavy metal door, which is opened with three keys, two of which were found in 2012, by the Alcatraz Task Force. As James leads him inside, he claims someone else wants to speak with him, informs him that his "future just got a heck of a lot brighter," and encourages him not to be shy.

Sweeney returned to his profession or robbing banks after he mysteriously resurfaced in 2012. He robbed a first bank, but only stole from the safety deposit boxes, and not the actual vault. This was a perfect replica of his methods in the late 1950s.

After a robbery, Diego Soto and Rebecca Madsen were called to Colonial Liberty Bank, where Soto quickly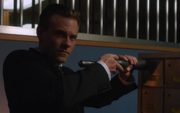 realised that the person behind the robberies was Cal Sweeney. Sweeney allegedly built good relations with 50-60 year old single bank tillers, such as Amanda, and, acting as if it was an excuse to flirt privately, asked them to take him down to the safety deposit boxes, where he would drug them, steal all the valuable items from specific boxes and run. Sweeney also killed a man at Colonial Liberty, as he almost saw Amanda's unconscious body.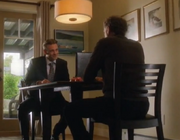 Unlike his technique before his incarceration in Alcatraz, however, Sweeney became extremely interested in personal possessions, possibly due to the little tin box issue back in 1960. He payed a visit to William Bailey, the owner of the most valuable deposit box at Colonial Liberty, which contained a platinum necklace with a sapphire. Acting as Peter Carr from the bank, wanting to begin with the insurance claim, Sweeney actually wanted to know whether the necklace had any personal significance to Bailey. After Bailey threatened to call the bank, Sweeney killed him, shortly before Soto and Madsen arrived. Hauser, Soto and Madsen manage to build a connecti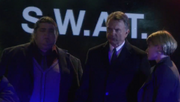 on between the bank tillers. They are always 50-60 single women, with always the same type of flowers. Closer surveillance led Madsen and Soto to Mae's Flowers, where Mae gave them Sweeney's order list. Madsen and Soto realised that Sweeney was using a tiller named Melissa Murphy at the Heritage Bay National Bank, to which they headed. In the bank, Sweeney failed to drug Murphy before she managed to set off the alarm. After quickly robbing the deposit boxes and being denied exit by the bank guard, Sweeney pulled out a handgun and held the entire bank hostage. The SFPD and SWAT teams arrived on the scene, including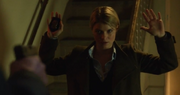 Hauser.

Madsen formulates a plan to break Sweeney out of the bank. Taking the role of a corrupt police officer, Madsen enters the bank through the air conditioning and gives Sweeney a set of police uniform. As the SWAT teams take the bank, Sweeney and Madsen drive off in a police cruiser, with Soto and Hauser trailing them.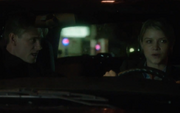 Noticing that they are being followed, Sweeney holds Madsen at gunpoint. After Sweeney produces a soft black bag, like the one Jack Sylvane obtained from Barclay Flynn, Madsen asks what it contains, with Sweeney replying that he doesn't know.

Madsen increased her speed after Sweeney demanded her to pull over and get out of the
car. Noticing that his seatbelt was not fastend, Madsen slammed Sweeney's side of the car into another vehicle, knocking him unconscious. Madsen handcuffed Sweeney and gave the bag with the key to Hauser.
People Hauser Shot
Edit
This is the first time Hauser didn't shoot anyone.
This is the first instance in which the reappearing inmate is not shown at the New Alcatraz.
Production Notes
Edit
This episode was the fifth to be produced, though the fourth to air.
Recurring themes
Edit
Cultural references
Edit
Literary techniques
Edit
Community content is available under
CC-BY-SA
unless otherwise noted.