Lafayette Recreation Area

Madsen and Soto at the Lafayette resevoir
First
"Kit Nelson"
 
Last
"Kit Nelson"
 
Location
North Moraga, Walnut Creek, San Francisco, CA
 
Purpose
Recreation area
 
Status
Operational
"

Well there's really only one place - Lafayette Recreation Area.

"

—Keller, "Kit Nelson"
The Lafayette Recreation Area is an area north of Moraga, west of Walnut Creek, where Kit Nelson took Dylan Callahan fishing by force. The area contains a reservoir, known as Moraga Lake.
Being the only area near Walnut Creek where Nelson could have gone fishing, Diego Soto and Rebecca Madsen investigated the area after learning from Keller that Nelson stole two childrens fishing rods a few weeks ago from his shop, Keller's Hardware. The area is home to the Rowboat Vendor, who rents out boats for one hour or two.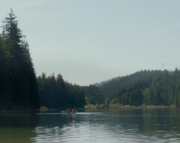 Community content is available under
CC-BY-SA
unless otherwise noted.