Occupation
Bar-owner/bartender
Former police officer
Former Alcatraz guard
Residence
San Francisco, CA, USA
Raymond "Ray" Archer, born Raymond Madsen, is a retired Alcatraz guard and the current owner and bartender of Ray's.
Biography
[
]
Prior to Alcatraz Reappearance
[
]
Early life
[
]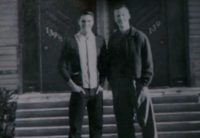 A young Ray Archer with his brother, Tommy Madsen.
Ray Madsen was born to William and Laura Madsen in San Francisco, CA. Ray grew up at 139 Hayworth Street, China Basin, and maintained a close relationship with his brother, Tommy Madsen. In 1954, after serving in the Korean War, Tommy fathered Van Madsen with his wife, whom he murdered three years later for unknown reasons, and was incarcerated in Alcatraz that same year. ("Pilot")  ("Ernest Cobb")  ("Guy Hastings")
1960
[
]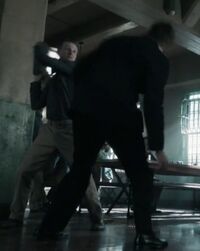 Tommy fights Ray in the mess hall.
Following Tommy's incarceration, Ray changed his surname from Madsen to Archer, in order to disassociate himself from his brother. Ray managed to become a potential Alcatraz guard by 1960 and was transferred to the island, where he was welcomed by the training officer, Guy Hastings. Despite the measures he took to hide his relation to Tommy, Ray aroused suspicions of his superiors from the very first day. Tommy noticed Ray at the mess hall, and attacked him for seemingly no reason. Ray was treated for his wounds by Dr. Beauregard, while wardens James and Tiller questioned whether or not Ray was there to break Tommy away. Hastings dismissed the claims, noting Ray showed bravery by opting to stay at Alcatraz. ("Guy Hastings")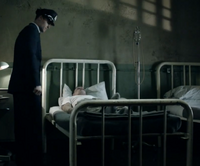 Ray visits Tommy at the infirmary.
Hastings tested Ray's loyalty by instructing him to lock Tommy out of his cell, and attack him in front of the other inmates. The beating resulting in another fight and the incapacitation of Tommy, who was sent to the infirmary. Later that night, Ray visited his brother, where he stated that "they were in this together" and that although Tommy might think that he deserved to "rot in this hellhole," Ray did not. Tommy grabbed Ray's hand in reunion and forgiveness, which was witnessed by Hastings. He also stopped Herman Ames and Pinky Ames from getting the civil war gold but was concerned that Warden James told the brothers that the keys they had were not to the gold Pinky, asked then what do they open. James answered none of your damn business and when he asked Ray to go to his house he told Tommy, "I will find out what they're doing to you."
1963 and beyond
[
]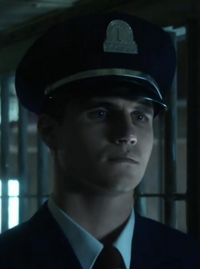 Ray as a guard in Alcatraz.
Ray left Alcatraz to care for Tommy's 6-year-old son at some date prior to March 20, 1963. He was told of Tommy's death in 1964, as Tommy's disappearance was covered up. In 1996, Ray was offered a position in the Alcatraz Task Force by Emerson Hauser, possibly due to his connection to Tommy. Ray declined, as he wanted to look after Rebecca Madsen, Tommy's granddaughter. After a career as a police officer, Ray opened Ray's in San Francisco.   ("Pilot")  ("Guy Hastings")
As Rebecca grew up, she helped Ray with his various cases, which eventually led to her becoming an SFPD detective. Ray hid his family connection to Tommy, and told Rebecca that Tommy was a fellow guard at Alcatraz, rather than his brother and an Alcatraz inmate. Ray's life as an Alcatraz guard was studied by Diego Soto, who named one of his comic books characters after him. ("Pilot")
Post-Alcatraz Reappearance
[
]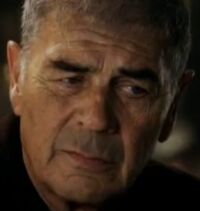 Ray Archer in 2012.
Ray was approached by Diego Soto and Rebecca Madsen in early 2012, involving a case involving the murder of E.B. Tiller, and the possible involvement of Jack Sylvane, a former Alcatraz inmate. Ray quickly figured that as Tiller joined up with the FBI, the case did not belong to Rebecca, who was then working with the homicide department of the SFPD.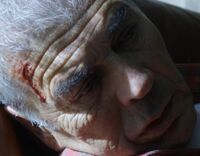 Ray Archer after being abducted by Guy Hastings.
When Guy Hastings reappeared, Ray was abducted from the backyard of his bar where he went to put out the rubbish. He was reported missing by fellow bartender JT to Rebecca, who, with Emerson Hauser, searched his apartment. Ray left his watch, which he was given by Rebecca when she was 13, as a clue at the apartment. He had been taken there only minutes before by Guy Hastings, who interrogated him about Madsen.

Ray Archer held hostage in his old home by Guy Hastings.
On Hastings' orders, Ray then took him to Van Madsen, who Hastings thought may know Tommy's whereabouts. After it was revealed that Van had died, Ray finally took him to his childhood home at China Basin, where he and Tommy grew up. Hastings was arrested by Rebecca and Hauser, shortly after Rebecca discovered the truth about Ray being her great-uncle.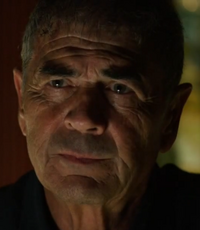 Ray Archer threatens his brother with death if he sees him again.
Ray was visited by Tommy Madsen, who had resurfaced after the 1963 disappearance, due to the fact that he could not stay at his old house since Ray brought Hastings there. Ray tells Tommy that he would kill him if he sees him again.
At the end of season 1, Ray comes into the emergency room in a rage and demands to know who did this to Rebecca. Archer also is furious at Hauser for not taking his advice that he said, "She deserves a normal life Hauser, cut her loose. She's the only family I've got." It is uncertain if Ray will actually kill Tommy for what he has done.