"Sonny Burnett"
Co-starring
Marcus Andrews - Officer
Michael Richard Dobson - SFPD Sergeant
Kevin Fry-Bowers - Boyd Hicks
Adrian Formosa - Prisoner in Yard
Grayson Gabriel - Cary
Jesse Fraser - Danielle Campbell
Leon Hanson - Inmate #2
Kathryn Kirkpatrick - Middle Age Woman
Peter Kent - Inmate #1
Billy Mitchell - David Pierce
Christie Watson - Artie Yanowski
Tobias Slezak - Simon
"Sonny Burnett" is the tenth episode of season 1, and overall the tenth produced hour of Alcatraz. It originally aired on March 5, 2012.

Burnett asking for protection from Hicks.
As E.B. Tiller arrives to evict a new inmate, Sonny Burnett, from his solitary cell, Burnett asks Boyd Hicks in the recreation yard for protection. Due to his previous occupations, Burnett claims he has large amounts of money, and is prepared to pay Hicks for his "deterrent" services. As Hicks evaluates on the legitimacy of Burnett's claims to wealth, Burnett assures him that the money is stashed in a box buried deep under a field on the mainland. When Hicks asks if he is sure about the location of the money, Burnett replies "I'd bet my life on it." Causing Hicks to reply, in a somewhat menacing tone, "Looks like you just did."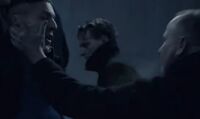 Burnett is stabbed by Hicks.
At a later date, however, Hicks approaches Burnett, asking him whether he is stupid or crazy. A confused Burnett is informed that one of Hicks' men on the mainland dug up the box Burnett had believed to contain $100,000, but failed to find the cash inside. Realizing that his girlfriend/partner in crime must have taken the money while he was incarcerated, Burnett says this out loud and assures Hicks that he had been certain that the money would be inside the box. Hicks believes him, but replies "Still, a bet's a bet." Before he can understand what Hicks means by that statement, Burnett is grabbed from behind by one of the inmates, a friend of Hicks', who holds Burnett still while Hicks pulls out a knife and stabs Burnett twice in the stomach. This doesn't kill Burnett, however, and he is rushed to the infirmary by the guards, who witness Hicks' attack and quickly intervene.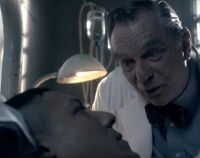 Beauregard with Burnett in the infirmary.
Burnett wakes at the infirmary, where E.B. Tiller, Warden Edwin James and Dr. Beauregard are discussing the identity of "Helen," a name which Burnett kept mumbling in his sleep. Beauregard leaves after telling Burnett that he had been technically dead for 30 seconds, during which he had no pulse. James and Tiller then argue about the safety of the inmates versus their adaptation to their new environment.

Burnett attacks one of Hicks' men in the recreation yard.
Hearing this, Burnett spends most of his time training in his cell by punching the walls and doing exercise. To test his abilities, Burnett attacks one of Hicks' men in the recreation yard, and is supported by the other inmates. Watching the fight, Tiller stops the guards from interfering, in order to watch Burnett's gradual adaptation. To stop the inmate from being killed, the guards are finally allowed to stop him, and Burnett is lead off to 30 days in solitary, which Hicks claims will be his last.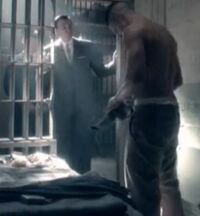 Tiller visits Burnett in solitary.
Having earnt Tiller's apparent and rare respect, Burnett is given a substantially large portion of dinner in solitary. Tiller also comments on "Helen," the name which Burnett kept mumbling in his sleep in the infirmary, and wonders whether it is of a lost love. As Tiller leaves, Burnett burns his arm with a cigarette, in a desire to feel pain and be able to tolerate it in preparation for his upcoming fight with Hicks.

Burnett and Hicks fighting.
After serving his sentence in solitary, Burnett once again arrives at the recreation yard, this time confronted by Hicks himself. Hicks is intent on keeping to his comment about not letting Burnett live to see another day, and Burnett is intent on doing exactly that. A fight breaks out, which results in Burnett being stabbed in the shoulder. Not giving up however, Burnett manages to break Hicks' arm, and then tears out his eyeballs. A deteriorating relationship between Tiller and James is also seen when James adamantly disagrees to Tiller's adaption theory, using himself as an example as the best possible candidate as a head warden. He also subtly warns Tiller to know his place as a deputy warden.
Production Notes
Edit
Some inmates are based off of real life prisoners and since he was nicknamed "shotgun", Burnett is likely based on "Machine Gun" Kelly.
However, in "Kit Nelson", Doc mentions Kelly when talking about who could afford the cigarettes Nelson smoked.
This means "Machine Gun" Kelly would be in the show as well as real life, thus the production not needing to make an inmate based on him.
Recurring themes
Edit
Cultural references
Edit
Literary techniques
Edit
Community content is available under
CC-BY-SA
unless otherwise noted.