This page contains vehicles used in episodes of Alcatraz (TV series)
---
Rebecca Madsen's Ford Mustang Fastback
Edit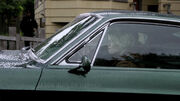 'Rebecca's' Ford Mustang  is a green 1968 Ford Mustang Fastback. It was first seen in Ernest Cobb (episode) . You could seen it behind Agent Hauser when they took Lucy to the hospital after she was shot by Ernest Cobb . This car appeared in almoste every episode of the first season.
Rebecca Madsen's Ford Mustang 2013
Edit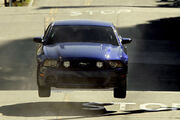 In the last episode Tommy Madsen (episode)  of the first season Rebecca was seen racing with this blue 2013 Ford Mustang Boss® 302 as she tried to catch Tommy Madsen.  Rebecca stopped Tommy's car by rear-ending it, after which she pulled him free of the exploding wreck. Tommy confessed their blood relationship, after which he explained (from his perspective) the reason he killed her partner. He said Detective Will Peters was paid to keep an eye on her and implied Warden James ' role in the return of  The 63's .
He went through the motions of obeying Rebecca when she attempted to arrest him, but kept talking. He asked about Van and about Rebecca's mother. He asked if Rebecca knew how they died.
When Rebecca was distracted, Tommy stabbed her in the gut and escaped using the blue 2013 Ford Mustang Boss® 302 Rebecca had commandeered from a citizen. ("Tommy Madsen")
Tommy Madsen's SUV
Edit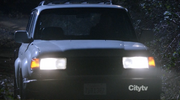 Tommy Madsen has been seen driving a SUV, this was seen when Rebecca and Doc look at surveillance footage. They also discover that Tommy  is the handler. Later on when they go to look for Garrett Stillman  in a trailer Tommy   returns to see if Garrett Stillman  got what they refered to as a "big hit".  When he saw Doc and heard him warn Rebecca  and  Hauser he fled the scene.
Tommy Madsen's Trailer
Edit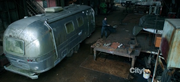 In the episode Garrett Stillman (episode) we saw Garrett Stillman knock on the door of a trailer were Tommy Madsen either lived or waited for him to return. Later we saw Joe Limerick  confronting Garrett Stillman immediately after Stillman had stolen the skeleton key from Harlan Simmons ' company Broadway Mutual. Limerick requests Stillman to give him the key and when Stillman refuses, Limerick shoots him and takes the key. Shortly after that Rebecca, Hauser and Doc arrived at the scene and found Stillman. Not so long after that Tommy arrives but when Doc calles Rebecca he leaves agian.
Tommy Madsen's Charger
Edit
On the episode Tommy Madsen (episode) Tommy steals a black Dodge Charger from the underground parking lot to get out of the mental hospital. After leaving the mental hospital, Tommy led Rebecca on a high-speed chase through San Francisco's hilly streets. Rebecca stopped Tommy's car by rear-ending it. This caused it to crash, after which she pulled him free of the exploding wreck.
Hauser's Black GMC SUV
Edit
Emerson Hauser has been seen in two different car's in season one of Alcatraz and one of them is a black 2007 GMC Yukon Denali. This car was seen in Pilot (episode) it was also seen when Hauser takes Jack Sylvain to New Alcatraz.
Community content is available under
CC-BY-SA
unless otherwise noted.